Ethan
Great pass!
Whilst learning to drive with Paul I always felt extremely safe and secure under his instruction. His patient and friendly manner assured me that as I progressed I was under no pressure and could take things at my own pace. These combined factors lead to a great environment which I always looked forward to learn in. His great support fully prepared me to pass both my theory and my practical test. Massive thanks to Paul, definitely recommend.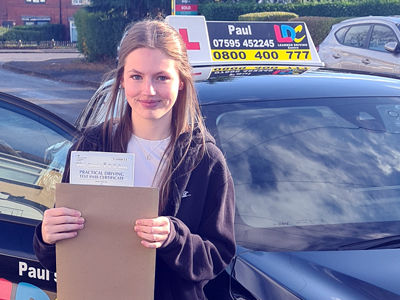 Gemma
1st Time Pass
Paul is an amazing driving instructor who helped me to become comfortable and confident behind the wheel. His patience, great explanations and sense of humour made me thoroughly enjoy my driving lessons. Paul was very supportive with both my theory and practical test, always helping me to improve my knowledge and driving skills. I am so grateful and happy, I can't thank him enough for teaching me so well.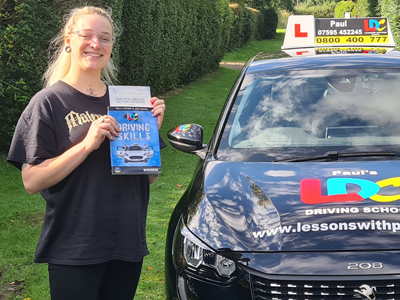 Sarah
Great pass!
My instructor Paul was incredibly helpful in helping me pass my test. Previously I had been using another instructor for a few months but felt I was not making the progress needed to pass my test. I started lessons with Paul and was passed within a couple of months. Paul helped me to keep focus, giving clear easy directions and instructions and boosting my confidence. I found I progressed rapidly with Paul as he has great communication and also managed to get my driving test booked in a couple of weeks way ahead of the expected wait time. He is a very dedicated teacher taking time for his students, I would highly recommend Paul to others wanting to pass their test. I am now fully qualified driver and driving in my car on the roads, I genuinely believe I would not have progressed so quickly to where I am now without Paul's help and I am incredibly grateful.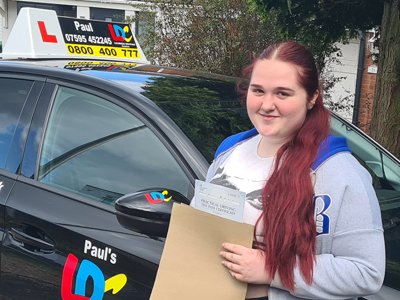 Sarah
First Time Pass
Amazing instructor, always made me feel comfortable when driving and gave me confidence. Taught me brilliantly which earned me a first time pass.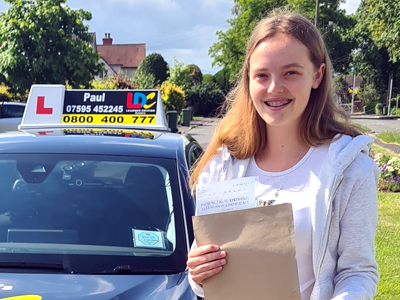 Aoibhe
Great Pass!
I cannot thank Paul enough for being an excellent driving instructor. He was always very punctual and reliable, giving weeks of notice before cancelling / rescheduling a lesson, which rarely happened over the 6 months he taught me. Each week, Paul made lessons something to look forward to and enjoy. He created a friendly, yet professional learning environment where mistakes could be made safely, without fear of a telling off! Paul only gave very constructive criticism, so lessons could be learnt from mistakes and progress could be made more quickly. He was always very encouraging, yet would not promote a false sense of confidence, and so lessons were taught at my own pace. As my test date got nearer, Paul was very accommodating, moving around his busy schedule to give me extra lessons.He also helped me to prepare mentally, with good advice and encouragement to calm my nerves. After I passed, Paul made it very clear that I shouldn't hesitate to contact him with any concerns or questions regarding driving in the future, which just shows how much he genuinely cares about his students, and is happy to go above and beyond, Thank you very much Paul, I couldn't have asked for a better driving instructor.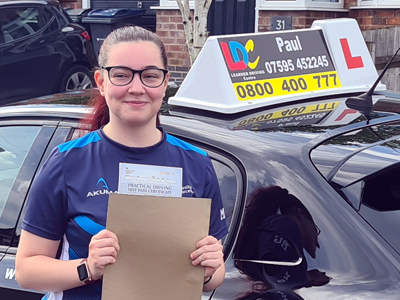 Mel
Great 1st time pass!
The student-centred approach allowed for me to learn effectively through being supported but allowed my own independence. I learnt at my own pace. The app/my page on the LDC website allowed me help in preparing for my theory test. The LDC workbook was also very helpful. My instructor was kind, fun to work with and allowed me to grow in confidence and skill over time. He was very good at explaining and showing how to improve. He offered help in my preparation in my theory and practical test. 5 stars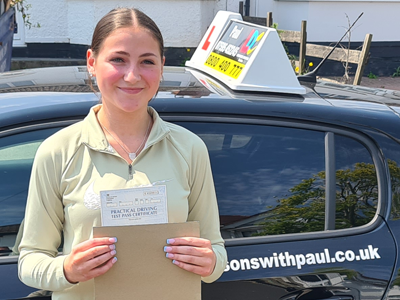 Tia
1st Time Pass
When I first began my driving lessons in November 2022, Paul made me feel at ease when I felt nervous. He made the process of learning straight forward and enjoyable throughout. As it came to the preparation for my driving theory, Paul helped me by showing me different, useful apps and websites which can help. These also came in good when I was learning the show me, tell me questions for my practical driving test. The confidence he gave me to pass first time. Very recommended.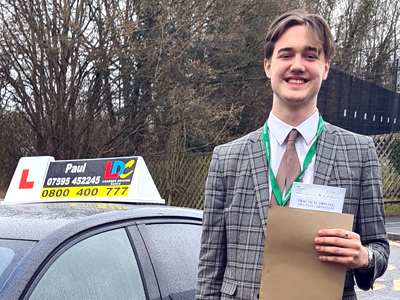 Danny O'Donnell
1st Time Pass
Paul was a great driving instructor who taught thoroughly whilst also progressing at a pace that was comfortable for me. Paul was good at picking up any mistakes I would make and we would discuss how the mistake could have been avoided. I acquired an LDC Driving Skills Workbook from Paul which gave me a good insight into what areas would be covered in the lessons and pointers on what to look out for. This was very useful for the first few weeks but once I understood how the driving lessons were progressing I went to the book less. Additionally, Paul was able to explain each topic coherently, so I was never unsure on a topic. Overall, I enjoyed learning to drive and would recommend Paul to anyone.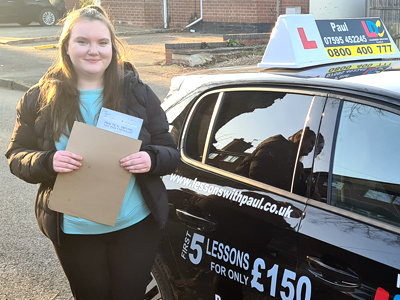 Jessica Hislop
1st Time Pass
I enjoyed learning to drive with Paul, he made it a fun and enjoyable experience. At no point did I feel pressure to be perfect and get everything correct, he would always talk me through what went wrong and how to correct it in the future, he was always encouraging and praised me when I did something good. The LDC workbook came in handy when first starting out as it allowed me to understand a bit more of the techniques before we actually did them in lesson. It was also useful right before my test to ensure I could do everything smoothly and correctly.